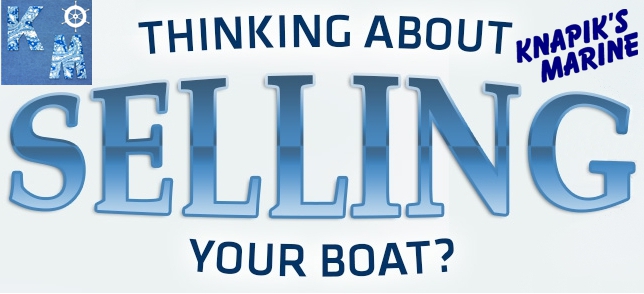 Put Your Boat On Consignment With Knapik's Marine
Save Time, Aggravation And Money!
No pictures to take.
No postings to do.
No sales or DMV paperwork to do.
No inquires or boat showings.
No wasting time dealing with un-qualified shoppers.
No dealing with endless questions before or after the sale.
No buyer complaints due to mechanical issues developing.
Never have to deal with an "I want my money back" situation.
We will also accept late model aluminum jon and utility fishing boats with or without outboard for sale at a very reasonable fee. Make it easy on yourself! Contact us for details.




What Will It Cost Me?

No monthly charges.

No listing fees.

Free inspection and appraisal.

Any repairs required to make your boat sellable will be disclosed up front and before you agree to put it on consignment with us.

Cost of any repairs if needed can be paid up front or deducted from your proceeds.

Our commissions start as low as 5% and you know how much our commission will be on your boat upfront before it's listed for sale. We will let you know how much you can expect as selling price and any reasonable offers will be verified with you before a final sale is completed. We do not deduct any hidden charges or additional fees from your proceeds.




What Do I Have To Do?



Have your boat inspected and appraised by Knapik's Marine.

Provide titles on boat and trailer to Knapik's Marine up front.

Provide Knapik's Marine with all keys and available owners manuals up front.

Sign the Knapik's Marine consignment agreement.




What Will Knapik's Marine Do?



We will clean and prepare your boat for sale and maximum profitability.

We will aggressively list your boat on the Internet including KnapiksMarine.com, Google AdWords, the Google Network, Google+ and an active display at our Amsterdam facility.

We will keep your boat indoors for potential buyers convenience, eliminate environmental dirt and keeping it in a desirable and clean condition.

We will handle all sales leads and showings with all potential buyers. You will never have to be in contact with prospects or with the purchaser.

We will provide financing if required along with transfer to the buyer and required DMV paperwork.

We will mail your proceeds to you within 10 days of total payment from buyer.




How Do I Get Started?


Call 518-842-8140 and say "I want to consign my boat with Knapik's Marine.

Set up an appointment for your FREE inspection and appraisal.
Or fill out the online form below.

Click here for form

Knapik's Marine can help you get more money for your boat and can help you sell your boat faster.

Since we handle all aspects of the sale including competitive financing, we make it easier and more convenient for buyers to close the deal.

Our reputation as a well respected boat dealer who takes great care of our customers gives buyers greater confidence to purchase a used boat from us.